7 Helpful Dos and Don'ts for Safely Burning Candles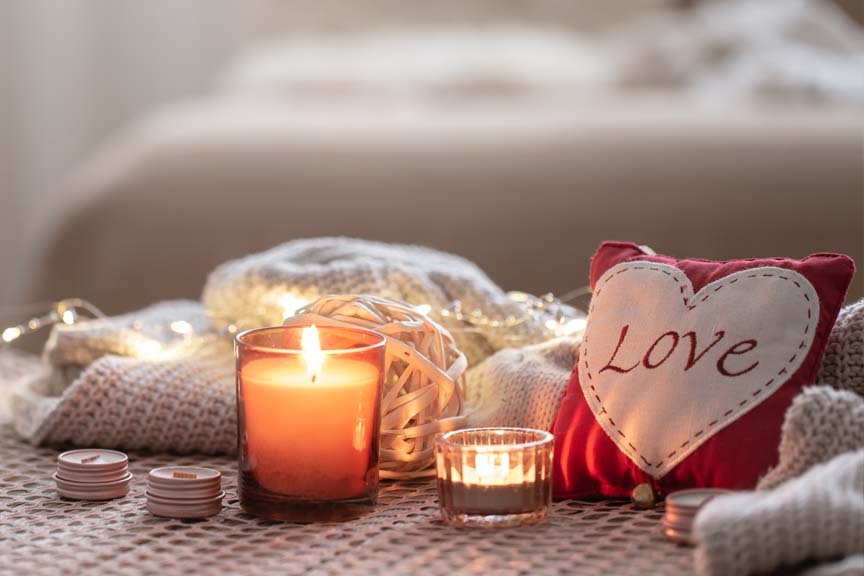 What's bright and warm and loved all over? Candles.
Creating a warm and cozy ambience for Valentine's Day,? Candles provide a romantic glow, and can also smell fantastic—whether you want your room to smell like a cinnamon-spiced oatmeal cookie or a bouquet of long-stemmed roses. Candles are also one of the most popular gifts to give or receive, with US retail sales of candles estimated to be over $3 billion each year.

So, what's not to love about candles? Well, they can be dangerous. In fact, an average of 21 fires are caused by candles every single day, according to statistics from the National Fire Protection Association. Yet, they also report that 85% of those fires were preventable.

The key to enjoying candles then is to use them safely. Here are 7 Do's and Don'ts that will help you enjoy the flame, without sparking a fire.
1. Don't leave candles unattended.
If you can't stay in the room where a lit candle is at all times, either snuff it out, or keep it in your line of sight.
2. Don't burn candles for more than 4 hours.
After 4 hours, the flame from a candle can burn too high and become unpredictable. So, don't light it and forget it. If you think you might forget or get distracted, set a timer on your phone to remind you to extinguish the flame within 4 hours.
3. Do secure candles from pets and children.
That flickering flame is an attention getter for everyone, and pets and young children do not innately know the danger of it. Make sure your candle is placed somewhere completely out of reach for children and pets.
4. Do scan the area for flammable items.
Hair, loose clothing, drapes, bedding, books, papers, pillows, holiday décor . . . these are all highly flammable materials that could easily catch fire if they are too close to a candle's flame.
5. Don't use candles too much in a power outage.
Flashlights, battery-powered lanterns, and even the light from your cell phone are all safer alternatives for light in a power outage. However, if you decide to use candles, keep them in a safe, stable, place. Do not walk around with a candle. Do not search for items in a closet while holding a candle. And definitely do not go near fueling equipment such as gas lanterns or kerosene heaters with a candle.
6. Don't use a candle as a nightlight or sleep aid.
The idea of falling asleep by the flicker of candlelight sounds cozy and romantic . . . and incredibly dangerous. If you really love that flickering light, invest in a battery-operated faux candle to place near your bed.
7. Do keep candles away from drafts, vents, and air currents.
Believe it or not, a draft or air current can carry a flame to a lightweight curtain or paper. Additionally, air currents can cause uneven burning, smoke, and excessive wax dripping.

For more information on keeping your home safe, including insurance coverage to protect you from mishaps, accidents, and damage, contact our insurance experts at 610-422-3530.