Tips for Visiting Colleges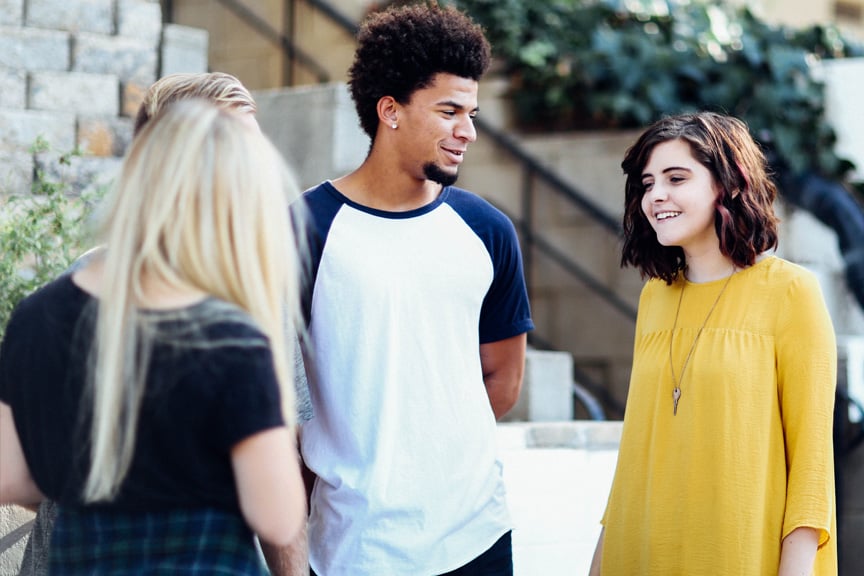 How can you tell if a college is the "right fit" for you? Visiting really helps. So, it's important to plan your college visits strategically and make sure you gather as much information as you can about each school you visit. Here are a few tips for making sure you get the most out of your college visits.
Understand the "Rules of Engagement"
Here's an insider secret: many schools track your engagement with them and want to see a demonstrated interest from you. Why? Frankly, schools want to admit students who really want to go there. The logic is that the more you demonstrate interest in a school, the more likely you are to choose it if admitted.
How Can you Show Demonstrated Interest?
Register, register, register. If you take on online tour, register for it. If you are going to visit campus, register for a tour. If an admissions rep comes to your school or visits virtually – stop by or sign up and introduce yourself. In a word: engage.
Also, follow the social media accounts of the schools in which you're interested.
"Visiting" Schools Online
The internet is your friend here. Before you hit the road to visit a college, be sure and explore college's websites. You can gather a ton of information online without ever setting foot on campus and narrow down the list of schools you want to visit in-person.
What to Look for on a College Website
Is it a big or small school? Find out their enrollment numbers.
• What majors and programs of study do they offer? Do they offer courses you'd be interested in?
• What is the average class size?
• Is it a sports school? Do they have the kinds of teams/or sports you are interested in following?
• What kind of clubs and extracurricular activities do they offer?
• Do they have co-ops, internships, or externships?
• Do they offer study-abroad programs?
This is by no means an exhaustive list of what you can find from a simple search of a school's website, but it's a good start.
Take an Online Tour
Touring every college in which you are interested may be physically impossible or fiscally challenging. So, use virtual tours to narrow down your choices. Luckily, virtual tours are as abundant and robust as ever and can include live Q&A sessions, presentations, and more. Find the tour schedule online and register for a session.
Visiting Schools In-Person
The time of year that you visit colleges can impact your impression of the school. So, avoid times of the year when students are least likely to be on campus, and times of year when the campus will be overly busy. For example, avoid visiting over winter break or on move-in days. Touring schools during a normal period will give you a better feel for the campus. Check the school's calendar of events to find out what's happening around campus the day you visit. It is important to schedule your visit online and ahead of time to ensure you secure a spot. Some colleges will not admit walk-ins.
Visiting Schools During the Summer
Summer is a popular time for college visits. Luckily, many schools offer classes and have a fair number of students on campus during the summer months. If you visit during the summer, make sure to go on a day that tours are being offered.
No matter when you visit, check the school's website for their particular rules. Some campuses still have COVID restrictions in place. If in-person visits are available, check course offerings and find out if you can sit-in on an interesting class (also a GREAT way to show demonstrated interest).
Find Tours and Register for Them
Make sure to schedule your tours in advance. Check your college's website for rules, restrictions, or capacity limitations due to COVID. It is important to register online for tours and information sessions you plan to attend for multiple reasons: to avoid showing up when the campus is at capacity or even closed, and to have a record of your demonstrated interest in the school.
What to Note on Your College Visit
Here are a few things to pay attention to once you are on a college campus.
Take note of how students get around campus. Are they walking, biking, taking a bus, or driving
What is the general vibe? Do students seem very stressed out or is there a sense of fun in the air? (Of course, this may be different on a Monday versus a Friday!)
What are the buildings like? Schools may or may not allow you into dorms and academic buildings. If they do, can you picture yourself living in the dorms? Do the classrooms provide a good learning environment?
Be sure to check out the local community too. A lot of schools are integrated with the surrounding town, which can add to or detract from your college experience. Do you feel comfortable in the town? Are there things to do off campus that would be fun for you? And arguably most importantly, do you feel safe there?
Ask Questions
The tour guides are not just there to walk around campus and throw out school statistics. They're also trained to answer many questions you may have.
Here are a few examples of good questions to ask your tour guide:
Why did you choose this school?
Are your professors good teachers?
What's a typical day like?
What is the social scene like?
Are career services helpful?
Have Fun
Wherever and whenever you decide to visit colleges, there's one thing that's more important than anything else: Have Fun! Take pictures, take notes, grab some lunch at a nearby restaurant or café. Soak up the atmosphere and try to enjoy the process.